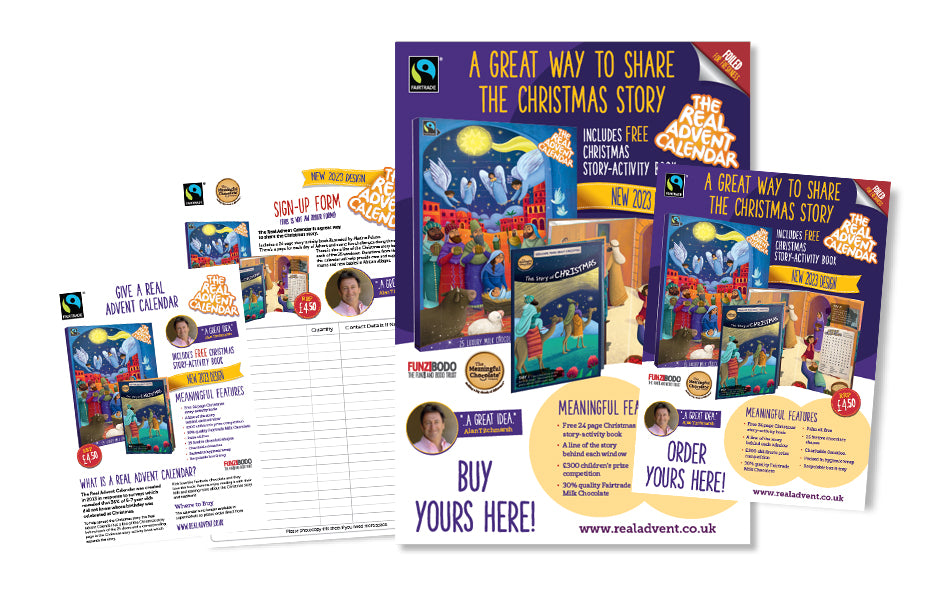 Free resources and economy update
Free resources and economy update
We are all aware of the pressures facing the economy and households at the moment. We wanted to play our part in making life a bit easier so, despite inflation, we have held the prices of our Real Advent Calendars plus there is free delivery for each Advent Calendar case bought. *
So, if you group together, you can have a Real Advent Calendar in your hands for no more than £4.50
Free downloads
We have made a poster, sign-up form and a flyer available to help you collect orders from friends or the wider community. You can access them here.
Traidcraft and Tesco
This year the Real Advent Calendar will not be available in any supermarket or from Traidcraft.
We were devastated to see the end of Traidcraft. They were the great champions and pioneers of  Fairtrade in the UK.  We spent more than a decade supplying them and sending in goods and we miss them greatly. 
With Traidcraft not stocking this year there will be about 20,000 fewer calendars available for people to buy.  So if you usually buy a Real Advent Calendar at Tesco or Traidcraft then you need to order from us in good time  as there may not be enough calendars to go round and we ran out early last year.