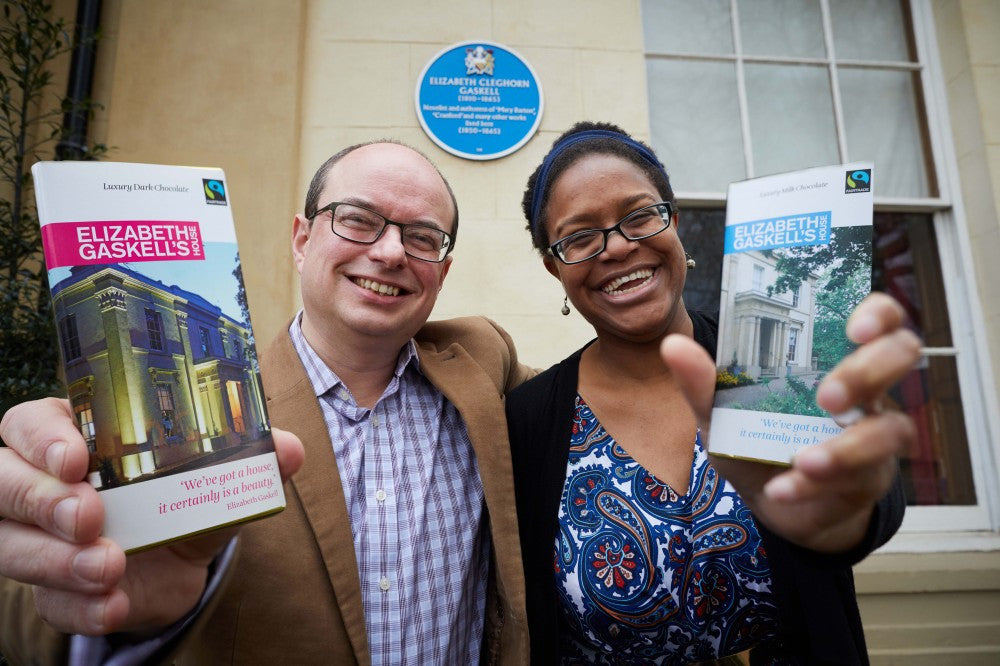 Cathedrals and smaller museums lead the way in Fairtrade Tourism chocolate

This Fairtrade Fortnight it has been revealed that Elizabeth Gaskell's House Museum, near Manchester, is part of a group of visitor attractions which are leading led the way by switching their souvenir chocolate bars to Fairtrade.
Many tourist attractions have a shop selling souvenir chocolate bars with a picture of the attraction on the wrapper. Back in 2014 The Meaningful Chocolate Company could not find a single tourist attraction which was using certified Fairtrade chocolate for their souvenir bars. Working with the Fairtrade Foundation the company developed a fast track way of providing the UK's first Fairtrade Belgian chocolate souvenir bars for venues. Attractions were invited to make the switch.
England's cathedrals have led the way: Leicester Cathedral was the first to have a Fairtrade gift bar – celebrating Richard III. This was followed by Liverpool, Peterborough, St Paul's, Salisbury, Lichfield, Exeter, Oxford and Canterbury cathedrals. The Scottish Parliament building was the first parliament in the world to say yes to a Fairtrade gift bar. Lincoln Castle was the first castle and Castell Henllys was the first ancient monument site to make the switch. King's College Cambridge was the first college to switch. The Welsh Oriel Gallery was the first gallery to switch. The Bronte Parsonage Museum, the Moyses Hall Museum and Elizabeth Gaskell's House have also commissioned bars.
Esther Lisk-Carew, from Elizabeth Gaskelll's House Museum, said; "We were delighted to commission Fairtrade souvenir bars, especially as Mrs Gaskell was a noted social campaigner for justice . We believe our visitors will appreciate the taste of the chocolate and be reassured that the farmers of the sugar and cocoa have received a fair price for their produce.They look great and taste great."
Phil Haley, from The Meaningful Chocolate Company, said; "It's time that all tourist attractions switched their souvenir chocolate to a certified Fairtrade blend. The Fair Tourism Bar Campaign, which we support, hopes to achieve this - aiming to make this the last year of unfair tourist chocolate being sold in UK attractions. It can be done. Customers did something similar in the 1980s by putting pressure on supermarkets and convincing them to stock Fairtrade products or switch their own brands to Fairtrade."
To join the Fair Tourism Bar Campaign you can sign the www.Change.org petition, nominate an attraction at the campaign website www.FairTouristBars.org or write, message or Facebook your favourite attraction asking them to make the switch to fair tourist bars.