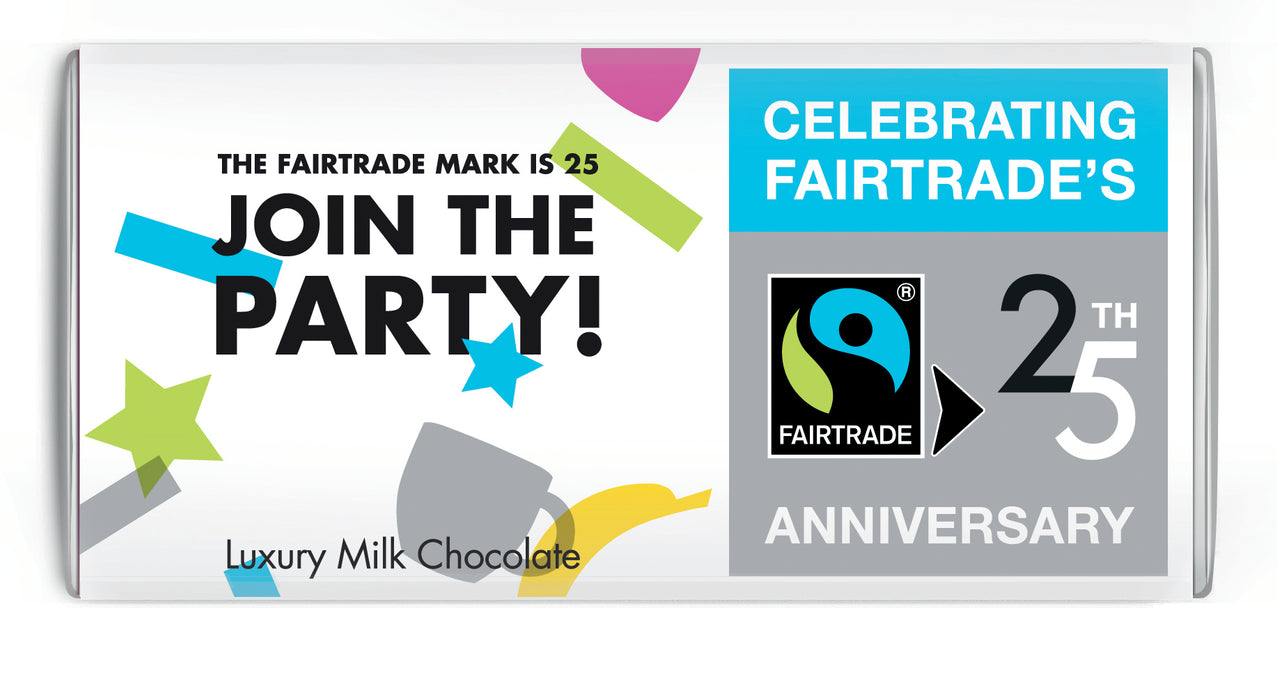 25th Anniversary Fairtrade Mark Bar Milk (Case of 12 bars)
Buy two cases for free delivery 
We're celebrating 25 years of the Fairtrade mark in the UK with our Fairtrade 25th anniversary milk chocolate bar. The bar carries the Fairtrade Foundation's 25th celebration branding.
Members of our team have been involved with Fairtrade from the start and we are proud to share this bar with Fairtrade supporters.
The bar is made in the UK using Belgian Fairtrade certified milk chocolate (35% Cocoa).
Sold in a case of 12 bars. BBE 17th August 2020.
Fairtrade facts

The first product to carry the Fairtrade mark was a chocolate bar.
Maya Gold Chocolate. 
6 million people globally who depend on growing cocoa for their livelihoods
60 % of cocoa is grown in West Africa
Many cocoa farmers live on 74p per day - way short of a living income
90% of the world's cocoa is grown on small farms by 6 six million farmers
12% of sales are now Fairtrade and sales continue to grow

Fairtrade chocolate is changing lives for the better every day. With Fairtrade sales, farmer cooperatives receive the Fairtrade Premium which they spend on improving quality and productivity on their farms, to increase incomes. 
Ingredients/Nutrition
Milk Chocolate bar (80g)
Ingredients: Sugar, Cocoa Butter, Whole Milk Powder, Cocoa Mass, Emulsifier: Soya Lecithin. Cocoa Solids 35% Minimum, Milk Solids 20% Minimum. Sugar, Cocoa: traded in compliance with Fairtrade Standards, total 77%. Visit www.info.fairtrade.net
Allergy Advice: For allergens see ingredients in bold.
May also contain nuts, egg and gluten sources (wheat). Suitable for Vegetarians.
Nutrition Information (per100g)
Energy: 2370kJ/566kcal
Fat: 36.8g of which saturates 22.2g
Carbohydrates: 50.4g of which sugars 49.5g
Fibre: 2.1g
Protein: 6.9g
Salt: 0.2g