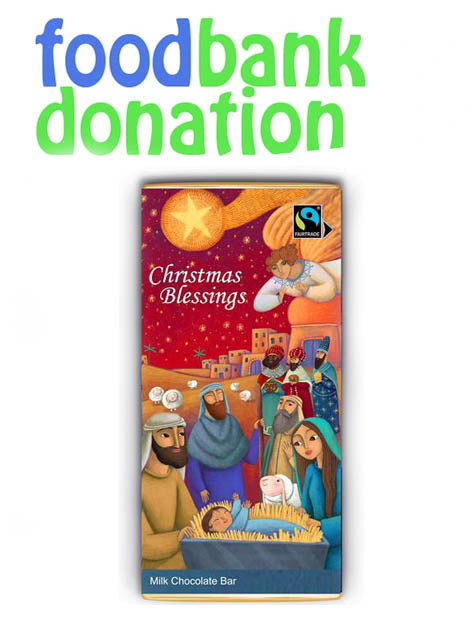 Christmas Blessings Milk Bar (Donation to a food bank)
Donate to a food bank show it works
PLEASE NOTE

YOU WILL NOT RECEIVE a Christmas Blessings Milk Bar, it will be donated to the food bank along with other items which have been purchased for donation.
For a reduced price you are able to buy a Christmas Blessings Milk Bar and we will send it to a Trussell food bank hub for distribution. It's a great way to make sure larger groups of children in need receive a Fairtrade seasonal gift. Donations need to be made by 12th December.
The bar is made in the UK using Belgian Fairtrade certified milk chocolate (29% Cocoa).

Sold as a single
About Fairtrade
All our chocolate is Fairtrade. This means our farmers receive a fair price for their sugar and cocoa and an extra Fairtrade Premium cash payment which they can use to invest in their community, buying everything from schoolbooks to solar panels and providing fresh water supplies.
Sourcing details
Meaningful Chocolate's sugar comes from cooperatives in Paraguay and Belize. Most of the cocoa from cooperatives in the Ivory Coast (Kuapa Kokoo Co-operative Cocoa Farmers and Marketing Union Limited Ghana). Beans are also sourced from cooperatives in the Dominican Republic, Peru, Panama and Ecuador. The chocolate for the eggs is then blended using a Belgian recipe.
Ingredients/Nutrition
Milk Chocolate bar (80g)
Sugar, Cocoa Butter, Cocoa Mass, Skimmed Milk Powder, Milkfat, Milk Sugar, Emulsifier: Soya Lecithin. Cocoa Solids 29.4% Min. Milk Solids 14.5% Min. Fairtrade cocoa and sugar may be mixed with non-certified cocoa, sugar, on a mass balance basis, total 80%. Visit info.fairtrade.net/sourcing
Allergy Advice: For allergens see ingredients in bold. May also contain nuts, egg and gluten sources (wheat). Suitable for Vegetarians.
Nutrition Information (per100g)
Energy 2,236kJ/535kcal
Fat 30g
of which Saturates 18g
Carbohydrate 59.1g
of which Sugars 58g
Fibre 2.5g
Protein 5.5