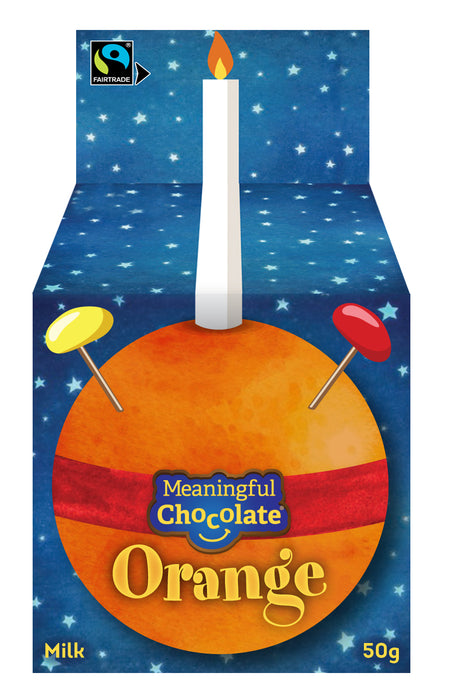 Chocolate Orange Christingle (single)
Cases of Christingle Oranges are available here.
A chocolate orange with meaning...

We have created the world's first Fairtrade Meaningful Chocolate Orange boxed in the style of a Christingle. It has Christingle symbols on the box along with an explanation of their meaning. The box also doubles as charity collection box with a slot for coins so you can encourage donations to a charity. Everything is plastic free and can be recycled.

Meaningful Features

Explains Christingle symbols (See below)
Box doubles as charity collection box with coin slot
Made from Fairtrade orange milk chocolate 35% cocoa
Includes brief explanation of Fairtrade

Ready made - no need to assemble
Plastic free

Recyclable box
Candle free

No sharp edges from cocktail sticks
Conforms to food regulations - no sticky oranges or germs on fruit
The box is 6.5cm wide, 6.5cm deep and 10cm high. The chocolate orange is 6cm diameter, hollow and wrapped in festive orange foil.
Click the image below to view the video
 History  of Christingles
In 1747 Bishop Johannes de Watteville started the tradition in Germany. The Moravian Church then spread the tradition. In the UK , since the 1960s, Christingles have been used in Advent to share the Christmas message and raise funds for charity.

Symbolism of Christingles

The word Christingle means 'Christ's Light'.  Its decorations have special meanings-
The orange represents the world
The red ribbon Represents God's love around the world and remembers the events of Easter
The candle Represents Jesus the light of the world brings hope in the darkness
The fruits Represents creation and the four seasons
About Fairtrade
All our chocolate is Fairtrade. This means our farmers receive a fair price for their sugar and cocoa and an extra Fairtrade Premium cash payment which they can use to invest in their community, buying everything from schoolbooks to solar panels and providing fresh water supplies.
Sourcing details
Meaningful Chocolate's sugar comes from cooperatives in Paraguay and Belize. Most of the cocoa from cooperatives in the Ivory Coast (Kuapa Kokoo Co-operative Cocoa Farmers and Marketing Union Limited Ghana). Beans are also sourced from cooperatives in the Dominican Republic, Peru, Panama and Ecuador. The chocolate for the eggs is then blended using a Belgian recipe.
Meaningful Orange Christingle (50g)
Ingredients: Sugar, Cocoa Butter, Whole
Milk
Powder, Cocoa Mass, Emulsifier:
Soya
Lecithin. Cocoa Solids 35% Minimum,
Milk
Solids 20% Minimum. Natural Flavour: Orange Oil. Sugar, Cocoa: traded in compliance with Fairtrade Standards, total 77%. Visit www.info.fairtrade.net
Allergy Advice:
For allergens see ingredients in bold.
May also contain
nuts, egg and gluten sources (wheat)
. Suitable for Vegetarians.
Nutrition per 100g
Energy 2,370kJ/566kcal, Fat 36.8g of which Saturates 22.2g,  Carbohydrate 50.4g of which Sugars 49.5g, Fibre 2.1g, Protein 6.9g , Salt 0.20g