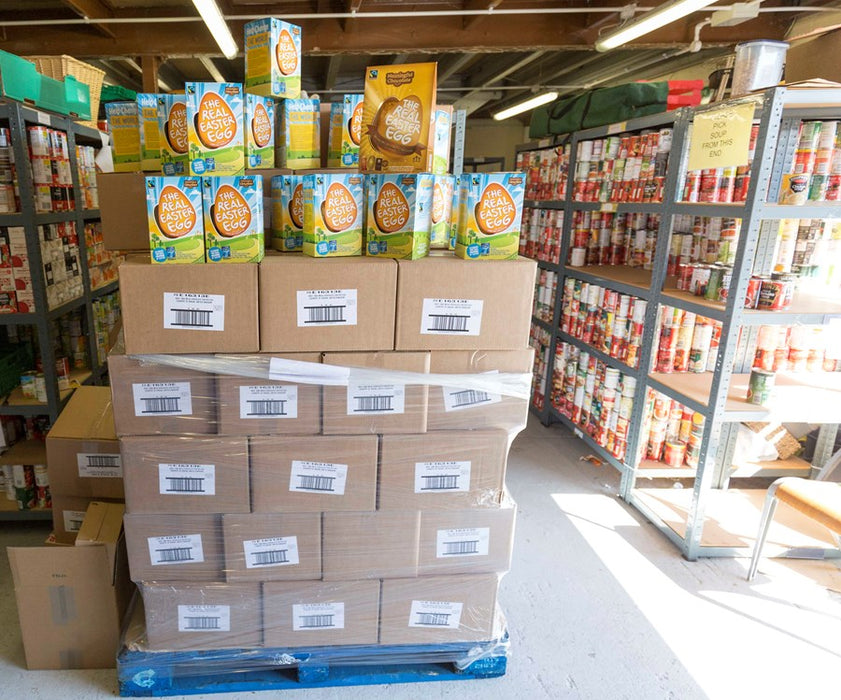 Donation to a food bank - Real Easter Egg (Sponsor a Pallet)
Now you can sponsor a pallet of eggs, which can be sent to your local food bank, a church run food bank, or Trussell Trust distribution hub. 

Each pallet has 396 eggs on it in 66 cases.
We will get the eggs to the destination of your choice or send it to a Trussell Trust distribution hub. The destination must be able to take a full pallet.
Email david@meaningfulchocolate.co.uk if you want to sponsor a pallet and for it to be sent or you can sponsor one now and we will be in touch.
It's a great way to make sure a family in need receive a Fairtrade Real Easter Egg this year.
Thanks for your donation.
About the Easter Egg
The 2023 plastic free design includes a large 24 page Easter story-activity book, a prize competition and a super thick milk chocolate egg (150g) with a lovely creamy taste. 30% cocoa – Palm Oil free.

This year the free 24 page Easter story-activity book has had a whole new design. It is illustrated by award winning artist Martina Peluso and contains the story of the first Easter along with some fun activities. Over its 24 pages, the story covers the final week of the life of Jesus and includes the events of Maundy Thursday, Good Friday and Easter Sunday. The book contains a prize competition worth £200. 
About Fairtrade
All our chocolate is Fairtrade. This means our farmers receive a fair price for their sugar and cocoa and an extra Fairtrade Premium cash payment which they can use to invest in their community, buying everything from schoolbooks to solar panels and providing fresh water supplies.
Sourcing details
Meaningful Chocolate's sugar comes from cooperatives in Paraguay and Belize. Most of the cocoa from cooperatives in the Ivory Coast (Kuapa Kokoo Co-operative Cocoa Farmers and Marketing Union Limited Ghana). Beans are also sourced from cooperatives in the Dominican Republic, Peru, Panama and Ecuador. The chocolate for the eggs is then blended using a Belgian recipe.
Milk Chocolate Egg (150g)
Sugar, Cocoa Butter, Skimmed Milk Powder, Cocoa Mass, Emulsifier: Soya Lecithin. Cocoa Solids 30.9%, Milk Solids 15.8% Minimum. Fairtrade cocoa and sugar may be mixed with non-certified cocoa, sugar, on a mass balance basis, total
80%. Visit info.fairtrade.net/sourcing
Allergy Advice: For allergens see ingredients in bold. May also contain nuts, egg and gluten sources (wheat). Suitable for Vegetarians.
Nutrition Information (per100g)
Energy 2,236kJ/535kcal
Fat 30g
of which Saturates 18g
Carbohydrate 59.1g
of which Sugars 58g
Fibre 2.5g
Protein 5.5g
Salt 0.11g