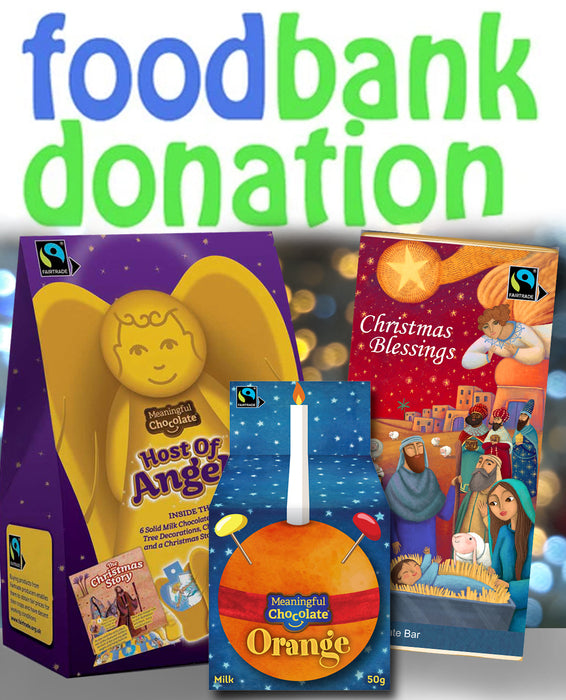 Meaningful Christmas Food Bank Donation Bundle
Donate to a food bank show it works
PLEASE NOTE
YOU WILL NOT RECEIVE the bundle, it will be donated to the food bank along with other items which have been purchased for donation. 
For a reduced price you are able to buy a Meaningful Christmas Food Bank Donation Bundle. We will send it to a Trussell food bank hub for distribution. It's a great way to make sure a family in need receive a Fairtrade seasonal gift and a copy of the Christmas story. Donations need to be made by 12th December.
Due to logistics it is not possible to nominate a food bank or have items delivered to a food bank which you run yourself. We will share news of the donations made just before Christmas.
Thanks for your donation.
About Fairtrade

All our chocolate is Fairtrade. This means our farmers receive a fair price for their sugar and cocoa and an extra Fairtrade Premium cash payment which they can use to invest in their community, buying everything from schoolbooks to solar panels and providing fresh water supplies.
Sourcing details
Meaningful Chocolate's sugar comes from cooperatives in Paraguay and Belize. Most of the cocoa from cooperatives in the Ivory Coast (Kuapa Kokoo Co-operative Cocoa Farmers and Marketing Union Limited Ghana). Beans are also sourced from cooperatives in the Dominican Republic, Peru, Panama and Ecuador. The chocolate for the eggs is then blended using a Belgian recipe.