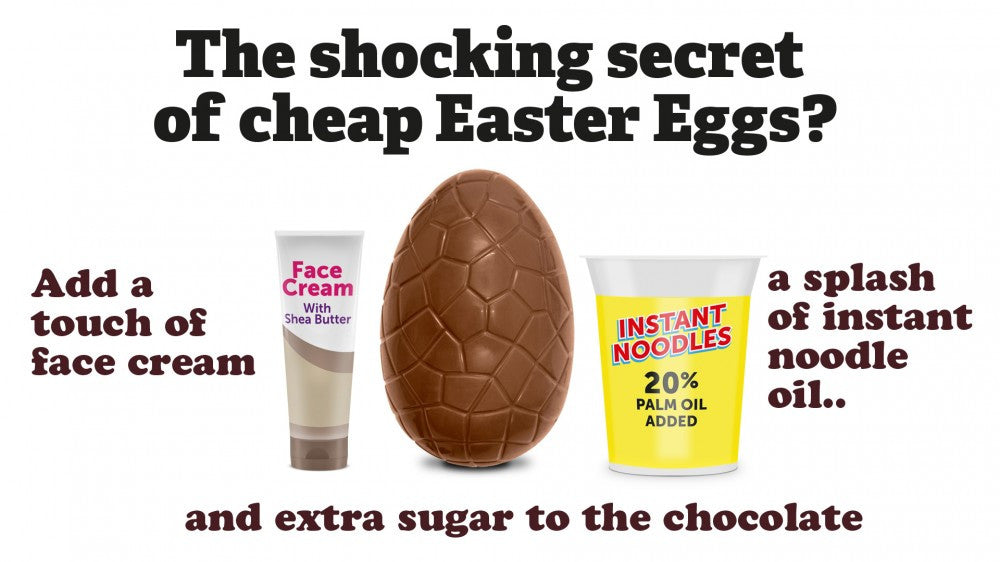 The secret of cheap Easter Eggs
IT CAN be a shock to discover the creamy taste of your favourite chocolate brand is derived from cold fast food fat or oil used in face cream– and not natural Cocoa butter.
A YouGov poll conducted in March, 2016 asked the British public how acceptable it was to reduce the cost of manufacturing chocolate by adding Shea Butter (also used in body lotions and other cosmetics) or Palm Oil (also used in the manufacture of instant noodles and other food products). More than half felt it was unacceptable.
It's not hard to find cheap Easter eggs, but they tend to be diluted with oils and cheap sugar. It's harder to find good ones.
If you want the best chocolate read the label; good milk chocolate contains at least 33 per cent cocoa solids and has no Shea Butter or Palm Oil. If you want it to be ethical as well then look for the Fairtrade logo.
All of our chocolate is Fairtrade certified and top grade. It tastes great but the taste comes from natural ingredients because we use natural Cocoa butter. We have sold more than a million of our Real Easter Eggs in the past five years. Thanks to the quality of the chocolate, in a recent public poll, it was voted the UK's favourite Fairtrade Easter Egg. Find out where you can buy a Real Easter Egg here.
How can they do it?
In 2003 it became permissible for companies to add five per cent 'non chocolate vegetable oil' to chocolate manufactured in the EU. In order to produce cheaper Easter eggs, UK chocolate is regularly diluted with Palm Oil and Shea Butter along with higher levels of cheap sugar. Chocolate Easter eggs made in this way often have as little as 25 per cent cocoa solids.
The final way to reduce cost is for manufacturers to avoid Fairtrade-certified chocolate. The Fairtrade system pays growers a fair price and a cash premium for their sugar and cocoa and so the chocolate is always more expensive.
In the 19th Century it was common for chocolate manufacturers to add everything from blood to brick dust as a way of padding out their chocolate or improving the taste. Pure chocolate became the fashion in the late Victorian Era and up until the late 20th Century chocolate remained a relatively pure product.