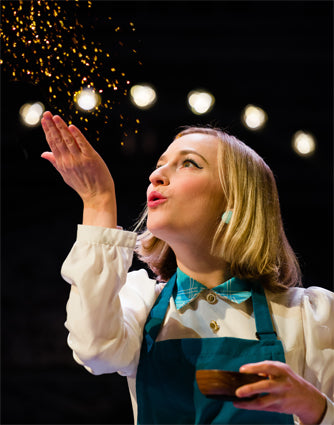 Live Theatre is back - with chocolate!
Performed live on stage and broadcast direct to your home!
Emma Rice's critically-acclaimed musical adaptation of Romantics Anonymous will be performed at the Bristol Old Vic, and broadcast live, between 22 and Saturday 26 September 2020.
It's a musical about people and chocolate. Funny, tender and painfully awkward, Romantics Anonymous is a delicious love story about breaking the mould and finding the courage to be happy.
Romantics Anonymous was last seen at the Bristol Old Vic in January 2020 and was about to start a tour of the USA when the pandemic struck.
The cast and producers couldn't bear to say goodbye to their delicious musical, so set to work on an ambitious plan to keep Romantics alive … and it worked.
Romantics Anonymous will perform again! For one week only, LIVE ON STAGE, streaming from the Bristol Old Vic. Each night will be a truly one-off experience! 
The chocolate
We provided the Chocolate for the production and have created exclusive Fairtrade chocolate bars for you to enjoy. So you can now experience the chocolate which featured in the 2020 production of Romantics Anonymous. Described by Broadway World as ''magic" chocolate' .
You can buy the chocolate here and tickets for the show here.
More details below...   
**** A multi-faceted gem, chock-full of love, generosity and joy – The Guardian
We are doing the fully staged show - Live!
This is not a fancy, edited pre-record of the show. That would be far too safe and easy! This is the real thing. At 7.15pm, when you take your seat on your sofa, we'll be in the theatre warming up, running lines and tuning instruments … until 7.30pm. Showtime! Complete with all the gorgeous possibilities for surprise that an old school night in the theatre would have, this is most definitely not a film. This is living breathing theatre, happening in the moment, shared with a live audience.
Safety is our priority!
Before rehearsals start, our entire Romantics Anonymous team will be tested for COVID and, once given the all clear, will isolate in a large bubble. Using the guidelines developed by sport, TV and film we have worked closely with Bristol City Council to make sure our team are kept safe and well. These rigorous measures mean that we will perform the full show - without social distancing. There will be singing! There will be dancing and, if true love has its way, there will be kissing… Imagine that!
Just like theatre used to be!
We know a live-streamed show isn't the same as actually going to the theatre and we also understand that watching things online can be hard work.  
We've done everything we can to make sure our live broadcasts are of the highest quality, that they're as easy to watch as possible, and that buying a ticket is simple.
We really want you to join us!
So, whilst it won't be the same as actually going to the theatre, we still think this will be a glorious night out. We hope you'll get dressed up, dim the lights, enjoy the blissfully short queue for loos, and share the chocolate.
It will be wonderful to be together again – something we all need in these strangely distanced times.
Keep Theatre Live!
Romantics Anonymous was originally presented at Shakespeare's Globe in 2017 and then remounted by Wise Children and Plush Theatricals in 2020.
This live stream has been made possible by the unwavering support of the Broughton Family Charitable Trust and of Paul & Joanna Pearson. In truly challenging times, the generosity and faith of these donors has allowed Wise Children to take the very real risks involved in this project and give this wonderful show another life. We thank them from the bottom of our chocolate box hearts.
 Wise Children and Bristol Old Vic present
ROMANTICS ANONYMOUS
Directed by Emma Rice
Book by Emma Rice, Lyrics by Christopher Dimond, Music by Michael Kooman
Based on the film Les Émotifs Anonymes written by Jean-Pierre Améris and Philippe Blasband