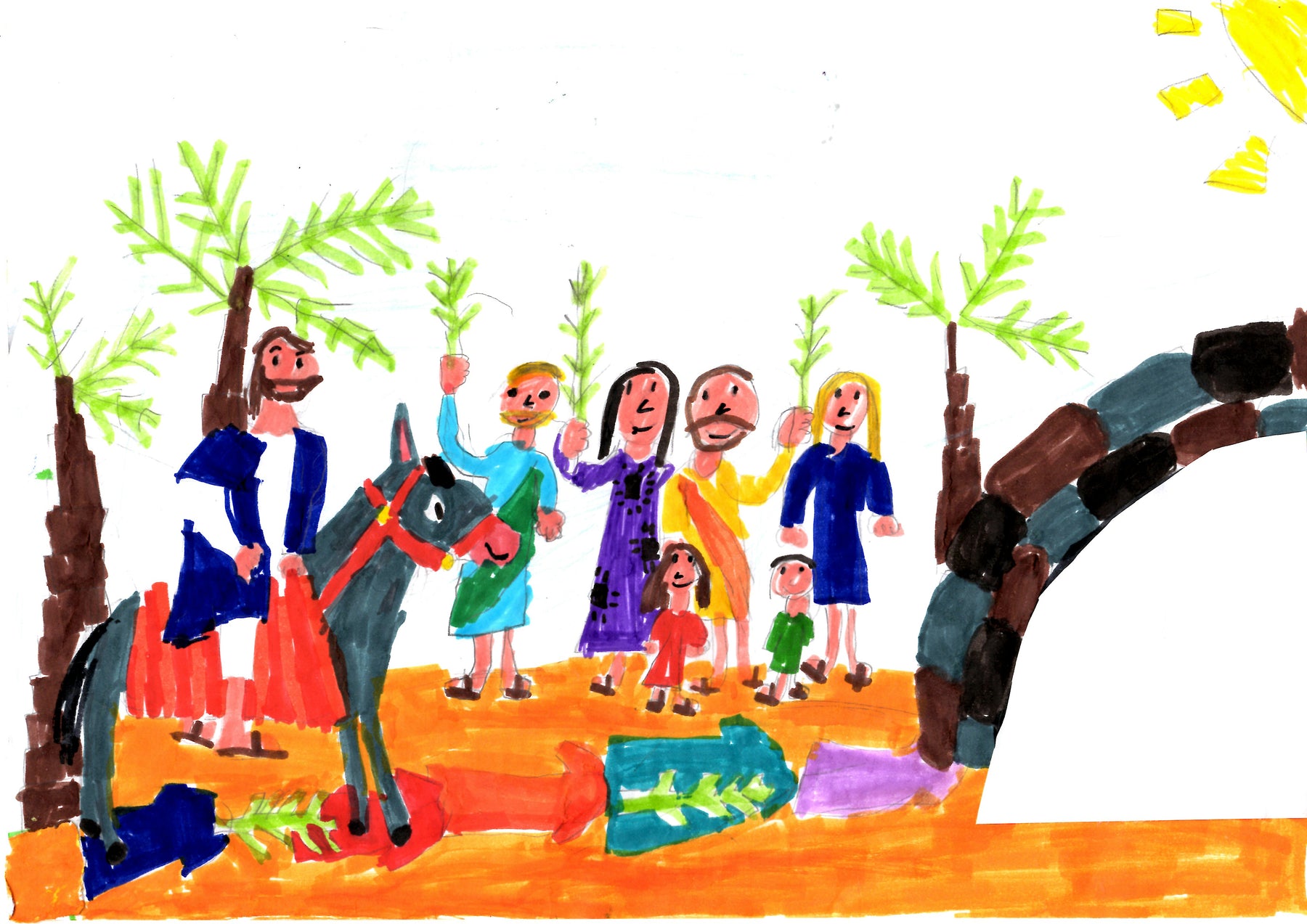 Easter competition winners revealed
Today we are delighted to announce the winners of our Easter competition. We asked children to draw their version of what happened on Palm Sunday according to the Bible. 

The competition was open to primary schools, secondary schools, Sunday schools / Messy Church or other youth groups such as Guides, Boys' Brigade etc. The winning children's group, primary and secondary school each receive £150 with runner-up prizes of £50. The winning children will each receive a Special Edition Real Easter Egg.

Scroll down to view all the winners.

Senior school winner
Our senior school winner from Ellesmere Port Catholic High School is this very detailed picture of Jesus' entry into Jerusalem. The framing with palms is a clever device which is like a magnifying glass taking us close to the detail.
Primary school winner
This winning entry from St George's RC primary school in York is full of colour and character. We liked the different characters lining the route and how they are used to draw our focus to Jesus who arrives, bathed in sunlight. 
Church group winner 
This winner is from Bothwell Evangelical Church JAFFA club. Smiling crowds of all ages gather to welcome Jesus. In the foreground, there is a tomb to remind us that this world changing week will end with the joy of the Resurrection.
Senior school runner up winner
This runner up entry from Ellesmere Port Catholic High has a different focus from other entries. This artist has focused on one detailed palm surrounded by key words and phrases. The gold and purple colour scheme is highly effective. It made us think of Kingship but also the purple robe worn by Jesus in the Easter story.
Primary school runner up winner
This is a very joyful picture from Wellesbourne CE Primary School. It captures the sense of celebration which must have been felt on that first Palm Sunday. Even the colt looks happy. However, the rooster at the bottom right reminds us that before this week is out, Peter will deny Jesus
Church group runner up winner
This is a very thought provoking entry from All Saints' Church Youth, Lightwater. In the beautifully shaded piece, Jesus seems to have moved beyond the joy of the waving palms and be about to face the great challenge of Holy Week.