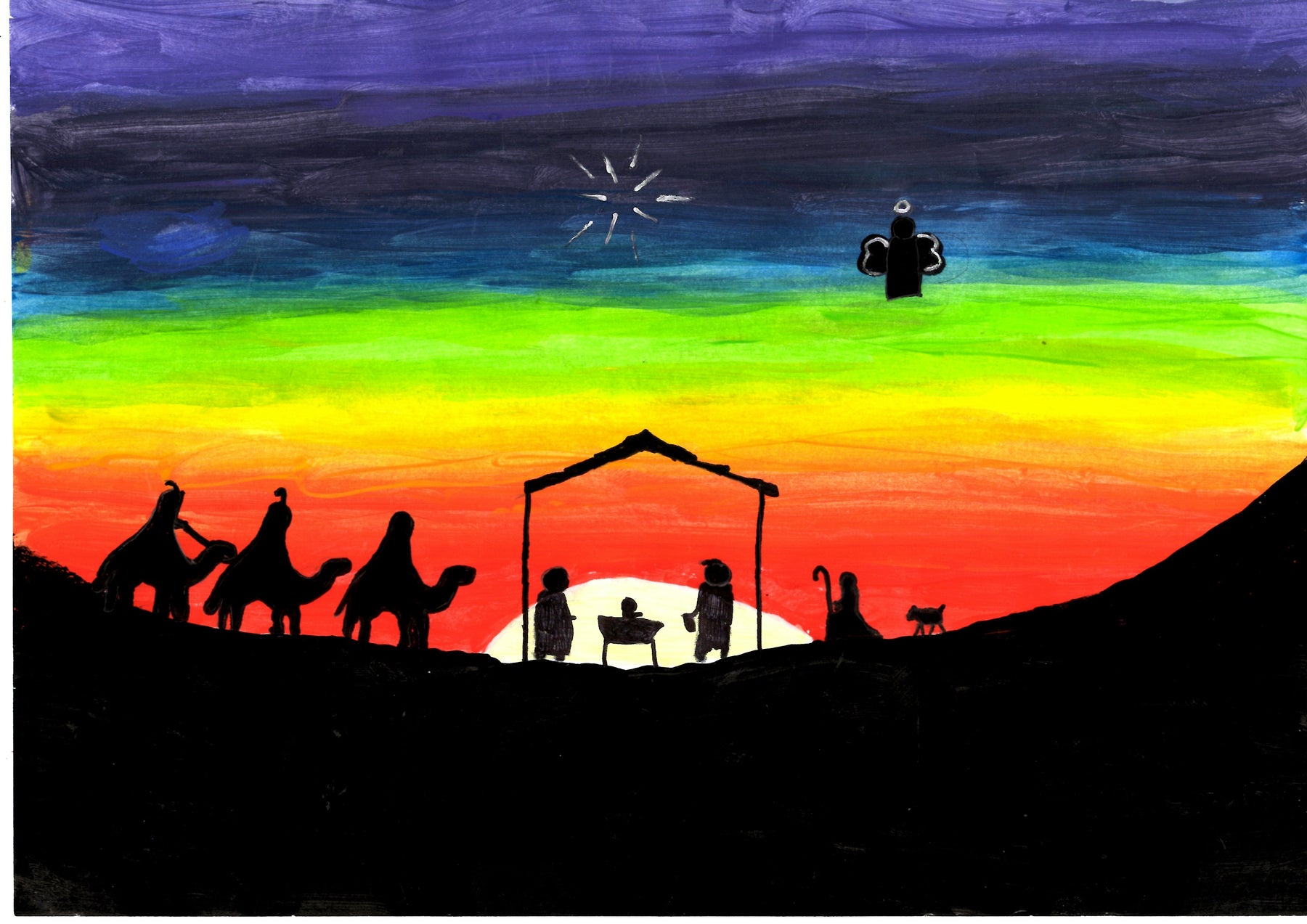 Competition winners announced 
We are delighted to announce the winning entries for our Real Advent Calendar competition. Our challenge was to design a calendar which features the colours of the rainbow as a reminder of and tribute to all of those key workers who continue to carry us through the pandemic.
In each category the prizes were £50 book tokens for the winners and £25 book tokens for the two runners up. Every winner and runner up will receive some chocolate to share with friends.
Senior Winner
Our senior winner was this picture by Matilda, aged 14. We loved the colour and characterisation in this bright and joyful piece, including a very happy looking sheep. The rainbow is  subtly incorporated to the right in a sky blazing with light and colour.
Junior Winner
This beautiful picture by Amelia, aged 9, is our Junior winner. The glorious sunset is suffused with the colours of the rainbow as all the key characters assemble to celebrate Jesus' birth.
This lovely picture by Sophie sees the rainbow forming the stable itself. There is plenty of light and Jesus is a joyful presence in the manger while His family look on.
This picture by Lara is full of the Christmas story. In the distance you can see the angel appearing to the shepherds and the wise men approach the stable in the foreground. The town of Bethlehem is all the colours of the rainbow to the right hand side adding more colour and joy to the picture.
In this picture by Rachel, aged 9, the angels lighting up the sky are all the colours of the rainbow. The bright yellow background of the stable against the dark blue sky shows how Jesus is the light of the world.
No one can doubt the love of God in this joy filled picture by Jessica. Mary and Joseph are clearly overjoyed that Jesus has arrived and is safe in this rainbow coloured stable.
This second senior runner up is by Lottie. The rainbow bright light inside the stable contrasts with the darkness outside. This really reminded us of the promise of God's love being fulfilled at Christmas.
A large and bright rainbow provides the backdrop to this piece by Joseph. The wise men are just arriving and there is a great sense of movement as Mary and Joseph prepare to welcome their vistors.
In this fun and bright picture by Rory, the wise men will have to pass by a very impressive rainbow to visit Jesus, Mary and Joseph. The central aspect of the rainbow reminds us of the importance of all those key workers this year who have supported and protected us.