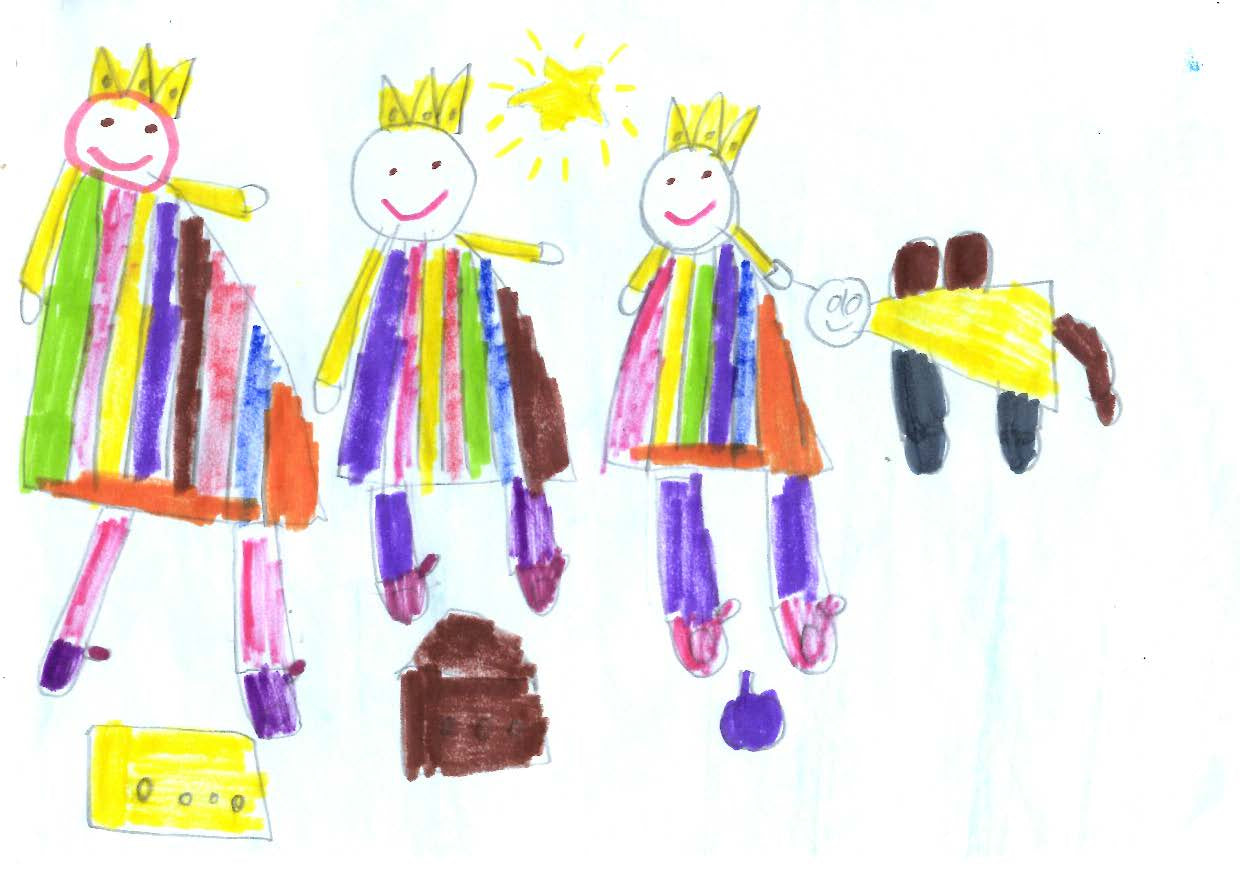 Christmas competition winners announced
We had lots wonderful entries for our Real Advent Calendar competition. The challenge was to design a card with the theme of The Gifts of the Wise Men.
There were £300 worth of prizes to win and three categories: up to 5 years of age, Junior and Senior. The winners have all been notified and will receive their book tokens soon (and a bar of delicious chocolate too).
Thank you for everyone who entered and do have a look at the winning entries below. For data protection reasons, we do not mention any of the personal details of our entrants.
Senior Winner
We loved this winning entry. It has a festive richness and detail and really captures the value of the gifts brought by the 3 wise men. It would make a lovely card for anyone to send.
Senior Runner Up
Our first runner up shows three very jolly wise men on their way to the stable. We also love that the camel, bringing up the rear, seems happy to be on this joyful journey too.
Senior Runner Up
This picture has a beautiful focus on the individual gifts. Richly coloured and detailed, the picture shows a clear insight to the differing nature of each of the gifts. The text recognises the purpose of the gifts and reminds us all of the joy of Jesus' birth.
Junior winner
This is a joyful scene as three beautifully costumed wise men approach Jesus. Everyone (animals included) is so filled with gladness and the star shines brightly as it leads the wise men on.
Junior Runner Up
This is another great portrayal of the wise men, travelling forward under the words of the carol which we most associate with them. They are dressed in vibrant costumes and the star shines above, guiding them on.
Junior Runner Up
These three wise men carry clearly different gifts. They also have a range of splendid beards and robes to mark each one out. The star of Bethlehem blazes in the sky above, guiding their journey to Jesus.
Up to age 5 Winner
These three jolly fellows have reached the end of their journey and have placed their gifts on the ground. All three are beaming with joy to have reached the end of their journey.
Up to age 5 Runner Up
This looks like the wise men have reached the door of where Jesus is living. In the centre, a very brightly clothed character is bringing his gift while the other two wise men peep in too. There is a lot of joy and colour in this picture.
Up to age 5 Runner Up
We also loved these three wise men in matching clothes laying down their gifts together. It feels like we are looking up at their joy filled faces and the star behind them, as if we were Joseph or Mary looking up from tending Jesus to greet these exciting and happy guests.